Domains Bot ChatGPT Plugin
Checks for a domain name's availability. You can search for your desired domain name.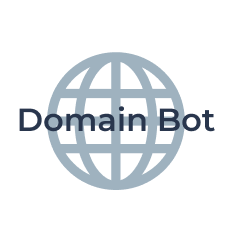 Domains Bot
What is the Domains Bot ChatGPT Plugin?
The Domains Bot ChatGPT plugin is a popular tool used by website owners and digital marketers to find available domain names. With the increasing number of websites being launched every day, the need for a unique domain name has become a top priority. This plugin helps in the search for a desired domain name and ensures that it is available. One of the main issues with finding a domain name is that it may have already been taken. With the Domains Bot ChatGPT plugin, users can quickly and easily check the availability of their desired domain name. It saves time and effort by providing users with immediate results. This tool sets itself apart from other domain name search tools because of its simplicity and accuracy. The Domains Bot ChatGPT plugin features a user-friendly interface, which makes navigating the tool simple and intuitive. It is also supported by a team of experts who use advanced algorithms to ensure the accuracy of their results. This ensures that the user gets reliable and instantaneous results for their domain name search. Apart from checking the availability of a domain name, the Domains Bot ChatGPT plugin also helps users generate ideas for unique domain names that are relevant to their business. This is a great feature for those who are struggling to come up with new and meaningful domain names. The plugin also includes a variety of domain extensions, making it easier for users to find the perfect domain name that suits their requirements. With the extension filter, one can easily search for domain names using specific criteria such as country-code TLDs, .com or .org among others. In conclusion, the Domains Bot ChatGPT plugin provides a hassle-free, accurate and reliable solution for those in need of a suitable domain name. By making use of this tool, users can save time and avoid wasting resources on redundant domain name searches. The plugin generates unique domain names while taking into account the user's requirements. It is the perfect tool for digital marketers and website owners who are looking for a fast, effective, and reliable method of finding the right domain name for their website.